We went Nikko, Tochigi to see to see the beauty of autumn even if the peak is already done. Instead of Autumn experience, we experienced early winter as it is already snowing on that area of Nikko, Tochigi. This is why, you will see snow falling captured in our photos and it's magical.
Do you wanna know where is this area? Come and see below!
Irohazaka Winding Road
Irohazaka (いろは坂) is a pair of winding roads connecting to the lower part near Central Nikko to the higher part of the Okunikko region where the Lake Chuzenji and Kegon Falls are located. The roads named are based on the 48 syllables of the Japanese alphabet as this Irohazaka route or Irohazaka Winding Road consists of 48 hairpin turns or 48 slopes.
Image via Pinterest
Ryūzu Falls
One of the attractions that you can visit after the Irohazaka Winding Roads is the Ryūzu Falls (竜頭ノ滝 / Ryūzu no Taki) which means "Dragon Head Falls" in Japanese. It was called Dragon Head Falls because its twin falls are said to resemble like a dragon's head.
Lake Chūzenji
Another famous attraction is the Lake Chūzenji (中禅寺湖, Chūzenjiko). It is a beautiful and scenic lake which was created 20,000 years ago when Nikko's sacred volcano, Mount Nantai erupted and blocked the river.
Kegon Falls
Kegon Falls (華厳の滝, Kegon no taki) is the most famous fall in Nikko, Tochigi. It is almost 97 meters high waterfall. Kegon Falls is connected to Lake Chuzenji and it is the only exit of the water coming from the lake. The falls were formed by lava flows, when the Daiya River was rerouted.
Did you know that Kegon Falls in Nikko, Tochigi is ranked as one three most beautiful falls in Japan?
Other Attractions
Other than these attractions, there are more to see in this area of Nikko, Tochigi like the Senjugahara Moor and Shrines and Temples.
Food
And for those who are #FoodIsLife, no worries because there are many restaurant up the mountain. You can try Nikko, Tochigi's authentic ramen and other stuff.
The best season to visit in this area is "Autumn".
Or if you will visit in the Winter Season, make sure wear your best winter clothes that will make you warm.
It is much more colder 'coz it's in the mountains.
So plan your vacation for next year and include this area!
Don't miss all this attractions!
They are all worth it to see!
Access
Tobu Bus is one of the main transportation going to all these beautiful attractions.
You can ride Tobu Bus going to Chuzenjiko Onsen or Yumoto Onsen from JR and Tobu Nikko Station.
The one way trip from Tobu Nikko Station to Chuzenjiko Onsen takes about 50 minutes.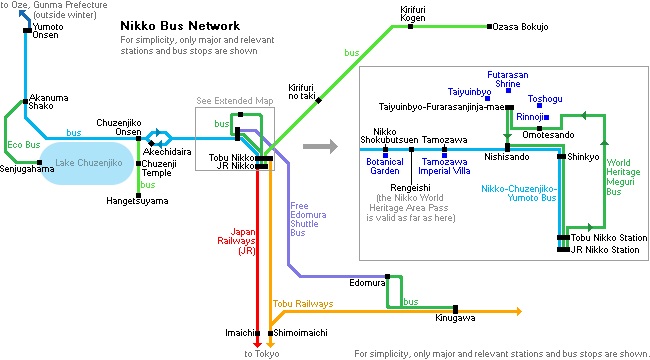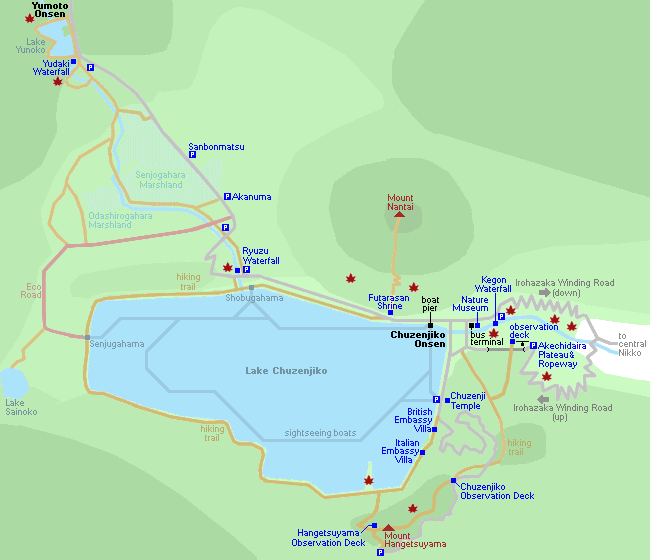 Images via https://www.japan-guide.com/
Map